Cody Black – A Journeyman Of Detroit Soul.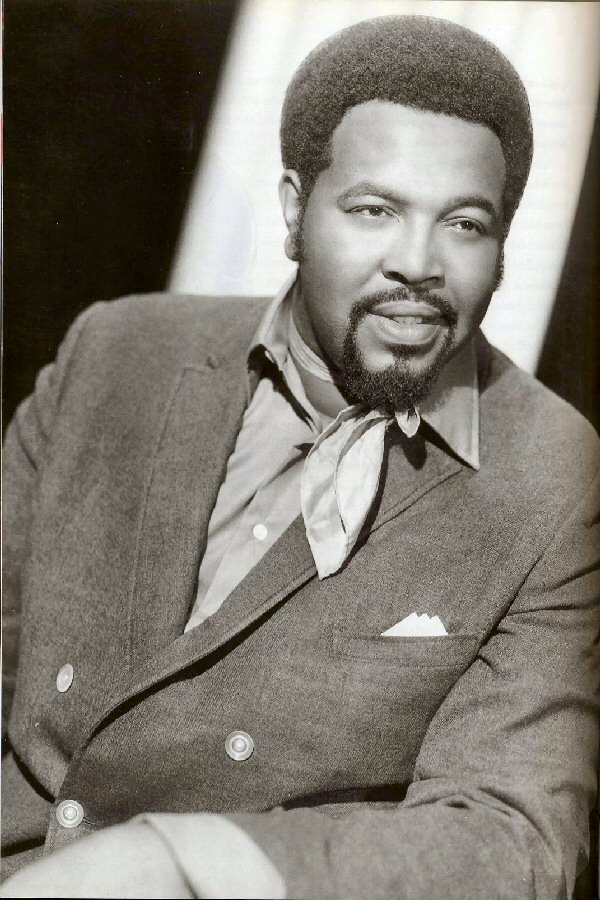 Cody Black was born in Cincinnati in March, 1939, and grew up in the city not far from Sid Nathan's King records. In fact by the time he was twelve years old his parents had moved to a house on Brewster, which was only two blocks away from the recording studio. Given his interest in music it was only natural that the inquisitive twelve year old would soon become a regular visitor to the King Records offices and recording studios.
He started singing with local Vocal group 'The Echoes' in 1955, but by 1956 had left them to join The Victorials with whom he recorded the Johnny Pate produced 'I Get The Feeling / Prettiest Girl In The World' single for Imperial records. The record failed to make any impact on the charts and in 1956 Cody was drafted for a three year tour in the US Air Force. By the time he returned to Cincinnati in 1959 most of the other group members had married and lost interest in the music scene. The group reformed for a short while, and performed locally, but eventually, by 1960 they broke up completely.
Whilst performing with The Victorials, and later as a single artist, Cody had bumped into Mickey Stevenson, and Clarence Paul, from Motown on several occasions. They had both encouraged him to relocate to Detroit, but in 1961 he was keen to remain in Cincinnati because he had managed to get a record deal with local label Pamela Records.
One release ensued: 'Come To Me (Girl) / Stranger Than A Fairy Tale', but with a spectacular lack of promotion, again sank without trace. A further deal with Universe Records produced another single: 'The Camel Walk / Joreen (She's Something Else)', in 1962. Credited to Cody Black & The Celestrials on the 'Camel Walk' side and Cody Black & His Girls on the 'Joreen' side.
It is likely, because of the typeface, and location of the recording being in Cincinnati, that this was a custom press in Cincinnati, done by King Records in 1962.
As this record had failed to make any noise in the charts Cody decided to relocate to Detroit. Allegedly, the receptionist at Motown refused to let Cody speak to Mickey Stevenson, so he walked out (I wonder if it was Martha Reeves ?), and managed to get work as a house painter.
He did of course eventually become involved in the burgeoning music scene in Detroit, and consequently met Mike Hanks, owner of the D-Town label, at The Phelps Lounge. A friend recommended Cody as a singer to Mike Hanks, who insisted that he get up on stage and sing for him. Cody obliged, singing a cover of Ray Charles 'Drown In My Own Tears'.
Mike Hanks obviously liked what he heard, but surprisingly didn't sign Cody as an artist, he offered him a job as an A & R Executive with the D-Town label. It took another year, during which Cody acted as a songwriter for the label as well as his A & R duites, before he was offered the chance to record for the label.
The resulting single, released in 1964, 'Move On / These Chains Of Love' on D-Town 1032 was significant only because it contained the original release of the song later covered by J J Barnes, 'These Chains Of Love'. The next single to be released also failed to create any chart action for Cody when it was released, but it certainly created a stir on the Northern Soul scene some twenty years later: D Town 1057 - Mr. Blue / You Must Be In Love – 1965.
Shortly after the release of this single one of Cody's friends approached him about a track that he had recorded on another singer. Grant Burton was the friend, and the track was 'I'm Slowly Molding'. Unhappy with the vocal, Grant and Cody went down to Cincinnati and dubbed Cody over the backing. Cody then approached his old friend Sid Nathan at King records for a one off release on King Records.
One more release came on D-Town, but despite the input of some money into the label by Roosevelt Greer, who had been singing and recording long before he became a professional American Football player, very little happened with the single.
Cody was becoming disenchanted with the exposure that the label was able to get him. He was still happy working at D-Town with Mike Hanks, Rudy Robinson, and Grant Burton, but wanted his own career to start moving as a singer, so he left the label and had a one off release for Wheelsville Records: Wheelsville 1071 - I Will Give You Love / I Am Particular.

Another two one-off releases on different labels quickly followed: Gig 201 - It's Our Time To Fall In Love / (Keep Your Baby Home Or) You'll Be Sorry, in 1966, and Groove City 960 - Because You First Loved Me / The Night A Star Was Born in early 1967.
The Groove City release was a Rudy Robinson, Grant Burton, and Cody Black composition which should really have been a hit, but like all his previous releases didn't exactly set the charts alight.
A move to yet another label at the beginning of 1967 saw Cody recording for the Ram-Brock label, and it looked like he was finally going to have a hit with his first release for them. 'Going Going Gone' on Ram-Brock 2002 started to sell well in the Detroit area, and although the hit never really materialised, there was enough success to ensure that Ram-Brock released two further singles from him. In addition the record was enough of a local hot to ensure that Cody was able to work live for several years to come in the Detroit area.
The following two singles failed to capitalise on the success of 'Going Going Gone' though, but Cody was, because of his raised profile, becoming a regular opening act for some of the star names who performed in Detroit, Gladys Knight and the Pips, and Areatha Franklin to name but two.
As a result of this Cody was signed by Ted White, Aretha's husband, to a brand new label that he had just set up.
In addition to having connections at a high level in the music industry, through his marriage to Aretha Franklin, Ted White also had connections at Capitol Records, who signed a distribution deal with Ston-Roc Records. Two releases by Cody Black were issued as a result of this deal, and both were on Capitol labels, using the Capitol numbering system, that also bore the logo of Ston-Roc Records.
One further release in 1971, Ston-Roc 3378 – 'I Still Love You / Ice Cream Song' came after capitol declined to renew the distribution deal (This single is often seen listed as a 1969 release, however the RCA Custom matrix numbers place it as a 1971 release).
The live work was still healthy, and that's how Cody earned his livelihood for the next six years, touring and performing in clubs and as the opening act for larger tours. He also continued to write and record his own songs, but failed to get a contract to release them.
In 1977, fed up with trying to get others to release his recordings Cody decided to set up his own label, Renaissance Records. In a way, it was the perfect solution, Cody wrote, produced, arranged, and sang on all four sides of the two releases. Unfortunately, without the backing of one of the majors, the records lacked the promotional push to become hits, and they were the last ever vinyl releases by him.
Not deterred by the lack of success Cody still continued to record, and in 2000 was rewarded with the release of his first CD on Mustang Sally Records (The label was owned by Detroit stalwart Mack Rice). A mixture of Blues and Soul music, the CD is still available on Amazon.
In 2004 Cody made his first visit to the UK, and performed an outstanding show at the Prestatyn Northern Soul Weekender which featured many of his Sixties Detroit recordings. He also celebrated his 65th Birthday whilst there.
Discography
Cody Black

Pamela 7453 - Come To Me (Girl) / Stranger Than A Fairy Tale – 1961
Cody Black & The Celestials / Cody Black & His Girls

Universe 551 - The Camel Walk / Joreen (She's Soemthing Else) - 1962

Cody Black

D Town 1032 - Move On / These Chains Of Love – 1964
D Town 1057 - Mr. Blue / You Must Be In Love – 1965
D Town 1066 - Would You Let Me Know / Too Many Irons In The Fire – 1965
Wheelsville 1071 - I Will Give You Love / I Am Particular – 1966
Gig 201 - It's Our Time To Fall In Love / (Keep Your Baby Home Or) You'll Be Sorry – 1966
Groove City 960 - Because You First Loved Me / The Night A Star Was Born – 1967
Ram Brock 2002 - Somebody's Gonna End Up Lovin' / Going Going Gone – 1967
King 6148 - Keep On Keeping On / I'm Slowly Molding – 1968
Ram Brock 2003 - Life Goes On / (The Night) A Star Was Born – 1968
Ram Brock 2004 - Love Like I Never Had / Reap What You Sow – 1968
Ston-Roc 3378 - I Still Love You / Ice Cream Song – 1969
Capitol 2807 - I'm Sorry / Fool On The Wild – 1970
Capitol 2858 - Stop Trying To Do What You See Your Neighbor Do / Ain't No Love Like Your Love – 1970
Renaissance 1001 - Keep On Trying / Steppin' On Toes (You Can't Make It) – 1977
Renaissance 0002 - Sweet Love / What Goes Around - 1978
Discography by Dave Rimmer with additions by Gaye Kidson, Bosko Asanovic and Naoya Yamauchi