No Tulips from Amsterdam, but a whole lot of soul.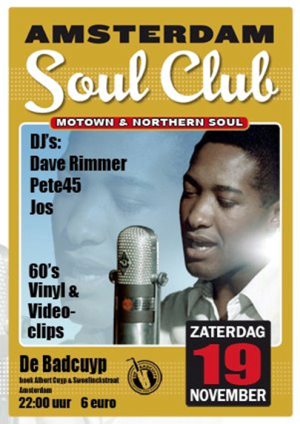 When I asked on Soul Source for the dates of European Soul nights, Jos from the Amsterdam Soul Club was the only person who replied. As I'd never been to Amsterdam before I soon arranged a date with Jos, and that date was the 19th November. So here's the lookback:
In the intervening weeks I had offered my services as a DJ for the night and Jos had offered to provide me with overnight accommodation, so I was all set for a weekend in Amsterdam.
Of course things never work out quite as planned, and without thinking of the date I accepted a booking at Sonic Soul at Lutterworth for the Friday night. I really enjoy Sonic Soul, and wanted to do the booking, but this meant I couldn't fly out to Amsterdam until the Saturday morning (and it meant very little sleep on the Friday night as well !)
Nevertheless, I caught the flight on time, landed early in Amsterdam (And a quick tip for anyone considering going to Amsterdam, all the Budget airlines that fly there are cheaper initially, but once you start to add on booking fees, card fees, baggage fees, it turned out that the scheduled KLM flight was about £20 cheaper), and contacted Jos by phone. He came out to the airport and collected me, and via a combination of train and tram we arrived back at his apartment, where I was introduced to his wife. Jos then took me upstairs to the other apartment where he showed me what his hobby in connection with Soul music was, but more of that later.
Jos then took me into Amsterdam for a quick tour of the tourist sites. I was amazed that there were loads of 'Coffee Shops', that you couldn't get a coffee in ! And there were some rather strange odours wafting out of the doors. We also did a tour of the red light district (Without stopping before you ask). It was strange to see what were often beautiful girls standing in windows wearing very little, and whilst I appreciate it's an accepted part of Amsterdam (and some of the girls were really fit) it did come across as a bit of a meat market.
The other thing that astounded me was the sheer number of people riding bicycles at breakneck speed on the Cycle roads. Each road had what we would call a cycle path on each side of it, and you literally do have to dodge the cyclists (It probably didn't help that I automatically looked the wrong way first though). So, all I needed for the full tourist set was to see some clogs, and yes there were tourist shops selling souvenir clogs.
To be honest Jos is a proud Amsterdamer though, and provided a running commentary all the way, on architecture, history, and events that had happened, so it really was an interesting tour.
Back to the apartment, and a lovely meal prepared by his wife for a group of people all of whom would be attending the Soul night later. I was introduced to Paul and Mandy, and as they were originally from Shrewsbury, we found we had lots of mutual friends.
By now it was approaching 9.00pm, so we set off for the venue in Jos's van.
De Badcuyp is a fairly small and intimate bar, which when the tables were moved was all dancefloor. There is an upstairs balcony, but very few people used it. A fairly good range of draft and bottled beer, and I was advised to try a Belgian beer called La Choofe as it was the closest beer to English bitter. Very nice as well, except it was almost twice as strong as the typical English beer !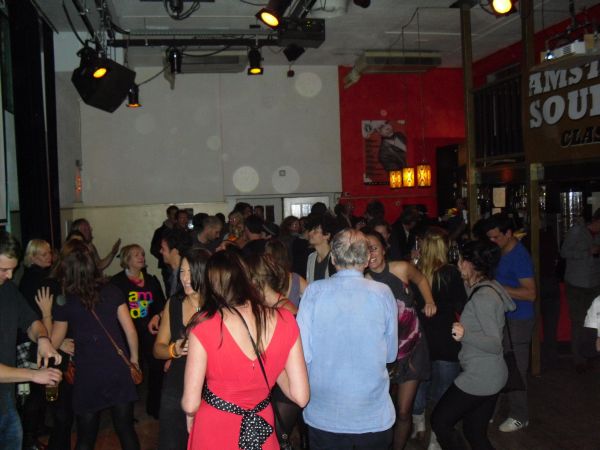 Very quickly it seemed the room filled up, most of the early arrivals were all ex-pats, quickly followed by the core of the Dutch Soul fans who support the venue. I was introduced to almost everyone who arrived in the first half hour, and promptly forgot almost everyone's name (I'm blaming the strong beer !).
The first spot came from Jos himself, and this is where his hobby came in. For a living, Jos works for the Dutch Television News company, thus is well versed in video editing. For his hobby, he appears to have scoured the world for video clips of Soul artists. He then edits the clips, improves the picture quality, and in many cases removes poor quality sound tracks and replaces them with the original recording. This is where the editing skill comes to the fore, because not all live recordings are word perfect reproductions of the records, as we all know. Jos though has done a fabulous job, and I found it fascinating. Several venues in the UK have made use of screens to show clips of artists, but none have actually shown the clips of the artists performing the song that was being played at the time. Not only that, but Jos has some really, and I mean really, rare clips, that I had never seen before. I think my favourite was the one of Edwin Starr performing 'Agent OO Soul', but there were so many that I hadn't seen before that it was an absolute delight.
Next to the decks was Pete45, an ex-pat from Manchester, (also a Man U fan, but we won't go there !). A great set of Club Classics, Oldies and R & B, all on original labels as well. Then it was time for the first of my two sets.
Jos had explained that the club attracted people of all ages, with a huge range of knowledge of Soul music, from those who only knew the Motown hits, to out and out anoraks, so the first set was a bit of a jump into the unknown. Here's what I played:
Set 1: (Both set lists are approximate !)
Mickey Champion – What Good Am I – Musette
Roy Wright – Hook, Line And Sinker - Mica
Bobby Bland – Yum Yum Tree – Duke
Bud Harper – Wherever You Were – Peacock.
Invitations – Watch Out Little Girl – MGM
Ted Taylor – Someboduy's Always Trying – Okeh
Slim Willis – No Feeling For You – CJ
Ted Taylor – Miss You So - Ronn
Five Royales – Catch That Teardrop – Home Of The Blues
Johnny Sayles – I Can't Get Enough – St Lawrence
Cooperettes – Shing A Ling – Brunswick
Joanne Courcy – I Got The Power – Twirl
Edwin Starr – Back Street – Ric-Tic
Bobby Freeman – Never Fall In Love – Autumn
Fascinations – Girls Are Out To Get You - Mayfield
Edward Hamilton – I'm Gonna Love You – Carrie
Jack Montgomery – My Dear Beloved – Sceptre
O'Jays – I'll Never Forget You – Imperial
Edwin Starr – Gonna Keep On Tryin' Till I Win Your Love - Gordy
Marvin Gaye & Tami Terrell – Two Can Have A Party - Tamla
Valentinos – Sweeter Than The Day Before - Chess
It must have gone ok because the dancefloor remained full (As it did all night actually), and nobody threw anything. The beer kept coming, and every time I tried to buy a round I was told I couldn't. In fact Jos gave me some drinks tokens to buy beer with, but I gave them back to him towards the end of the night because I hadn't had chance to spend them.
Jos and Pete both did a second set each, and then at 2.00am it was down to me to finish the night off. A few of the younger crowd had started to leave by this time, but the room still had healthy numbers, and the requests from the ex-pats were coming in thick and fast, so the second set was a bit more on the rare side than the first.
Set 2
Magnetics – I Have A Girl – Ra-Sel
Dena Barnes – If You Ever Walk Out Of My Life – Inferno
Brooks Brothers – Looking For A Woman – Tay
Frank Dell – He Broke Your Game Wide Open – Valise
Billy Hambric – She Said Goodbye – Drum
Tony & Tyrone – Please Operator - Atlantic
Betty O'Brien – She'll Be Gone – Liberty
Ike & Tina Turner – Dust My Broom – Tangerine
Patience Valentine – If You Don't Come – SAR
James Robbins – I Can't Please You - Mica
Doug Banks – I Just Kept On Dancing – Argo
David & Ruben – (I Love Her So Much) It Hurts Me – Warner Brothers
Tommy Navarro – I Cried My Life Away – De Jac
Bob & Fred – I'll Be On My Way – Big Mack
Troy Dodds – Try My Love – El Camino
Sam Fletcher – I'd Think It Over – Tollie
Soul Brothers Six – I'll Be Loving You – Atlantic
Seven Souls – I Still Love You – French Epic
Jimmy Wallace – I'll Be Back - Alpha
Fantastic Four – Can't Stop Looking For My Baby – Ric-Tic
Johnny Mae Mathews – I Have No Choice – Big Hit
Ray Pollard – The Drifter – United Artists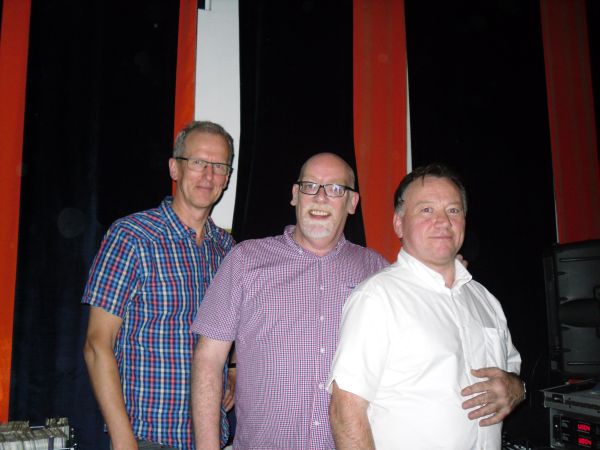 When my set finished I sort of helped load the van up (I actually stood around chatting making sure nothing was stolen). To my amazement, a considerable number of people got on their bicycles and rode off into the foggy night, including at least one ex pat.
By this time I was seriously the worse for wear. I'd had little sleep the night before, it had been a long day, and the beer was strong, and arrived with startling regularity, so I was pleased to get back to Jos's spare apartment and get some sleep.
I woke early the next morning of course, and spent a couple of hours reading before going upstairs to get Jos out of bed. After a breakfast of bacon and eggs (Which they had bought specially for me which I thought was a wonderful touch), we all set out for the city centre again. Jos's wife is a lawyer, and despite it being a Sunday, had to work, so Jos and I went on a tour of the Heineken Brewery. Great fun, and a lot better than the Guinness tour in Dublin I might add, which meant we got back to the apartment in good time for Jos to give me a lift to the airport.
The fog from the night before was still around, and although my flight was delayed for an hour I still managed to fly out at 5.30pm. which was a lot better then the people who were on the morning scheduled flight because it was cancelled.
I eventually arrived home around 7.15pm, tired but happy having spent a marvellous night in Amsterdam. I have only two regrets, firstly it appears that you cannot buy Old Holborn tobacco in Holland anymore, and I didn't see a single Tulip !
Seriously though, if you are looking for a great night out, in a wonderful city with lots of history, I would thoroughly recommend Amsterdam Soul Club. I had a great time, and I'm sure you would as well.
Pinched from a website about Belgian Beer:
La Chouffe 8.0%
Champagne like mouth feel & spiced caramel aroma are the highlights of this blonde, dry pale malt character. Light hops. A burst of peach in the palate. This is the flagship ale from Brasserie D'Chouffe for a good reason.